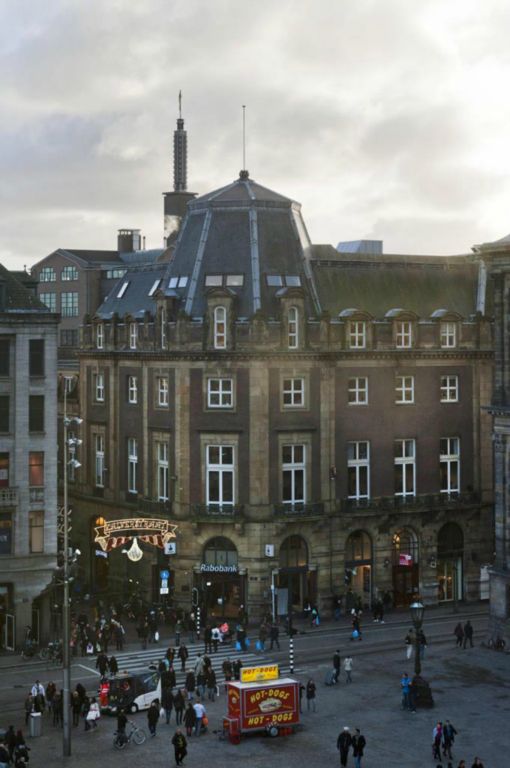 DE JONG GROEP
PHOTOS
A ROYAL LOCATION STEEPED IN HISTORY

Monumental metres in the very heart of Amsterdam. Behind the monumental door of Paleisstraat 1, at a stone's throw from the Royal Palace on Dam Square, one of Amsterdam's best-kept secrets is hidden: the remarkable architecture of De Groote Club, designed by Messrs. Schil and Haverkamp. Built around the turn of the 19th century the building until 1975 housed the social club which called itself 'De Groote Club Doctrina et Amicitia' , a fellowship that had arisen from Amsterdam's economic and cultural elite.
OFFICES WITH STYLE

Due to its great architectural value the building was designated a listed building a number of years ago. Lately all floors have been turned into office space, retaining of course all their characteristic and unique period features. For a great number of years Rabobank has run a branch office on the ground floor. The upper floors accommodate numerous leading national and international businesses. The extremely spacious first-floor lounge patio deserves particular attention.
In addition to the unique 19th century period characteristics, the view across Dam Square, the Royal Palace and the Kalverstraat shopping district, the five-floor building also comes with a stately entrance, two elevators and a nice reception desk. All this has resulted in an exclusive office building of unprecedented style, with all facilities, right in the heart of Amsterdam and its financial district.


INSPIRING SURROUNDINGS

De Groote Club is surrounded by international five-star hotels and a wide selection of restaurants and luncheon facilities, with a great number of tourist attractions in the near vicinity, such as Madame Tussauds, the Beurs van Berlage former stock exchange building and the Amsterdam Historical Museum.
Shopping facilities are first-class and department stores such as De Bijenkorf, Magna Plaza and the world-renowned Kalverstraat are of course within walking distance.